Tknika taking part on the Managerial Development Programme
This post is also available in the following languages: Euskara, Español
Past thursday, 19th of September, an event about cybersecurity took place in the context of the Managerial Development Programme for VET management teams. This event was located at the Álava Technology Park and it consisted in several speeches conducted by the Basque Cybersecurity Center, Osane Consulting, Tecnalia and Tknika. Specifically, Tknika presented the current status of cybersecurity in VET. Among other things, current initiatives related to cybersecurity and affecting VET were explained.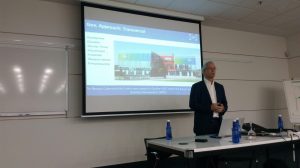 First, the existing Cybersecurity Especialisation Course was introduced. Some features of this course (requisites for studying it, DUAL training…), along with the teaching units that conform it were explained.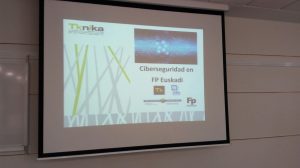 Second, a project about industrial cybersecurity which is being developed in Tknika with the collaboration of other VET teaching centres (IES Xabir Zubiri – Manteo BHI, CIPF Politécnico Easo LHII eta CIPF Txurdinaga LHII) was presented. Relating this project, what has been done until now was described, as well as future objectives and the necessary tasks in order to achieve those objectives.