LCAMP kick-off meeting
The Learner Centric Advanced Manufacturing Platform for CoVEs, LCAMP, project partnership celebrated its kick-off meeting between the 7th and 8th of September. The meeting took place in the facilities of Miguel Altuna VET college and in the facilities of the Basque Centre of Applied Research and Innovation in VET, Tknika.
Around 40 partners from Turkey, Slovenia, Italy, Sweden, Germany, the Netherlands, Belgium, France, Canada, and the Basque Country gathered to launch the project, organise the working groups, and define the work to be carried out over the coming years.
20 partners from 10 countries, of which 9 are education bodies, 7 are industries and industry representatives and 4 are associations of diverse types, form the LCAMP consortium. In addition, 60 associate partners have agreed to support the partnership.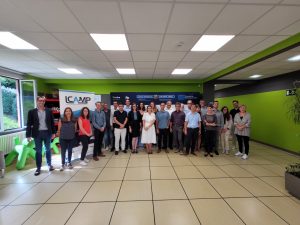 LCAMP is the continuation of one of the pilot CoVE projects, EXAM 4.0, and will be active between June 2022 and June 2026. The project will support and empower regional Advanced Manufacturing CoVEs to become more resilient, innovative and better equipped to train, upskill and reskill young and adult students to successfully face the digital and green transitions. LCAMP supports regional growth and competitiveness through the VET system.
This first meeting set the beginning of a long journey that will end with the establishment of a Learner Centric Advanced Manufacturing Platform for CoVEs. If we were embarking on a journey, this meeting would be our first step. If we were starting the construction of a building, this meeting would be like laying the foundation stone.
We will keep you posted!